Our monthly newsletter, The VOTER, provides information on League programs and events, and updates on our advocacy efforts, among other topics.
Ginger Park, Communications Chair
Articles for the Voter are due the Friday after the monthly Board of Director's meeting held on the second Tuesday of the month.
---
THE VOTER
August 2022

Calendar of Events
Tuesday, August 2, Noon, Tuesday Topics, Zoom: Donna Rae Pearson, Topeka & Shawnee County Public Library Local History Librarian, will discuss Redlining and how it has affected the development of the Topeka community. Redlining is a discriminatory practice denying loans or services to certain areas of a community, often because of the racial characteristics of the applicant's neighborhood. Zoom Link & Instructions July 2022
Wednesday, July 20: Panel discussion on reproductive justice, 6 p.m. at St. David's Episcopal Church in Topeka.
Tuesday, August 2: Kansas primary election and the vote on the constitutional  amendment abridging reproductive freedom. See fact sheet below.
President's Perspective
Here's what Vicki Arnett, Mary Lou Davis, Allan Foster, Mary Galligan, Carole Jordan and Susan Quinn did this summer—we went to a convention without rooms or social hours, even without nametags.
Voter Services News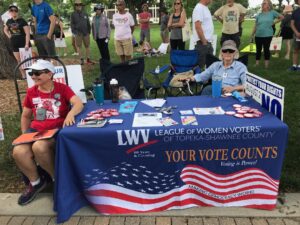 We've been busy during the past several weeks. Thank you to all the volunteers who have helped with our voter registration drives. Prior to the Dobbs decision, we were doing a fine job of alerting voters to the importance of voting on August 2. However, after the Dobbs decision was announced, the people of Shawnee County have become much more talkative and interested in discussing their questions with us about the amendment on the August 2 ballot.
Read full August 2022 Voter Services Article
Facts on Constitutional Amendment Question on Aug 2 Ballot
In the August 2 Primary and Special Election to Change the Kansas Constitution YOU can help determine the rights of Kansans for many years to come by registering to vote and then voting whether to change the Kansas Constitution. According to a poll conducted by the Docking Institute of Public Affairs at Ft. Hays University, more than 60 percent of Kansans oppose further restrictions on abortion. Abortion is already highly regulated in Kansas. Read full fact sheet that clarifies voting options.
Summary July Tuesday Topics
The July Tuesday Topics speaker Dr. Sharon Sullivan, Washburn University Professor and Theater Department Chair, discussed women's reproductive rights and the constitutional amendment on the August ballot regarding women's rights to abortion. Read the full summary of Tuesday Topics July 5, 2022
Local Observer Reports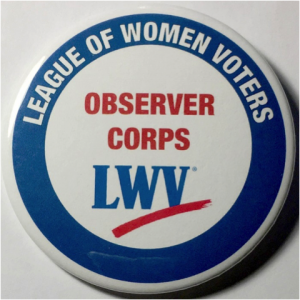 Congratulations to Jacquie Lightcap, LWVTSC member and LWVK Co-president, on her election as chair of USD 437 School Board.
LWV observers keep you informed about what is happening in local government. The Local Observer Corps volunteers attend city, county and school board meetings and take notes.
Read the August 2022 Observer Reports 
Adopt Ducks & Support LWVTSC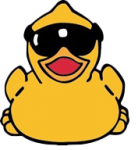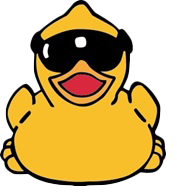 The 27th Annual Sertoma Great Topeka Duck Race will take place Saturday, September 17 at 10 a.m. at Lake Shawnee. Adopt your duck(s) now under the auspices of The League of Women Voters of Topeka Shawnee County and the League will receive 50% of the proceeds. In addition, if you happen to get a "lucky duck" there are nine possible prizes to win plus a chance to win $1 million.
Adopt your ducks anytime before the Sept 17 Race!
Read more about the Duck Race
Board Briefs
Planning is underway for a legislative candidate forum to be held after the August 2 primary election.
The national league is revamping dues and their distribution. Details remain to be determined.
Voter Services Committee continues to actively promote voter participation in the primary and general elections this year.
State League Action Alerts & Newsletter
Stay informed of State League of Women Voters Action Alerts and monthly VOTER Notes.