Our monthly newsletter, The VOTER, provides information on League programs and events, and updates on our advocacy efforts, among other topics.
Ginger Park, Communications Chair
Articles for the Voter are due the Friday after the monthly Board of Director's meeting held on the second Tuesday of the month.
---
THE VOTER
December 2021

Calendar of Events
Saturday, December 4, 9am-Noon: Virtual State League Day. Register to attend by Zoom.
Tuesday, December 7, Noon: Legislative Forum – LWV Members, watch your email for the Zoom link. Non-members, register for the Zoom link with the Topeka and Shawnee County Public Library.
Traditionally, we invite all Shawnee County senators and representatives to address members and guests at the December Tuesday Topics. This year will be in a virtual format. These legislators will attend: John Alcala, Brenda Dietrich, Ron Ellis, Jim Gartner, Annie Kuether, Fred Patton and Virgil Weigel.
Tuesday, December 14, Noon: LWVTSC Virtual Board Meeting. Email carolejordan53@yahoo.com if you would like to attend.
President's Perspective
 I am grateful for our League of Women Voters, our volunteers and our generosity in working to help others register and vote, engaging with our community, examining and clarifying issues that affect our state and nation, and carrying on the fight. But with that gratitude, I remind us all that our needs continue.
Voter Services News
Another election is in the books. We have lots of uplifting news going into the holidays with pictures and reports recapping many of our election-related activities – first time voters, first time poll workers, and the successes of the Topeka Voter Collaborative. In addition, we have a Fair Votes Fair Maps report and a summary of what we observed at the election audit. It's been quite a month!
View full Voter Services News
Local Observer Reports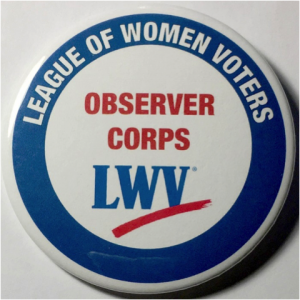 Read about the Topeka City Council discussion of their legislative priorities for the upcoming 2022 session.
This is just one of the interesting items you'll discover in local observer reports. Find out what is happening in local government. The Local Observer Corps volunteers attend city, county and school board meetings and take notes.
Read the December 2021 Observer Reports.
Renew Your Membership
November is the month to pay your annual League of Women Voters dues.
$62 for an Individual Membership
$101 for a Household Membership
Students are free! 
If you'd like to be a sustaining member, just add $30 to your payment. The entire $30 stays in our chapter.
Payment options
Send a check payable to "LWVTSC" to Allan Foster or to Theresa Kiernan at the addresses below.
Pay by credit card through online. A $3.50 processing fee is added. 
Allan Foster
6321 SW 25th St
Topeka, KS 66614
Theresa Kiernan
3620 SW Yorke Way
Topeka, KS 66604
Please renew your membership. These dues keep us operating and allow us to continue the League's important work.
November Tuesday Topics Summary
Our presenter was Zack Pistora, Kansas lobbyist for the Sierra Club, Interim Executive Director for the Kansas Rural Center that concentrates on rural life, sustainable food and farm systems.
Zack asked, "We all count on our environment, can it count on us?" He went on to discuss all the environmental issues that need improvement and what legislators are starting to do.
Read the Tuesday Topics November 2, 2021 Summary or watch Zoom recording on the Topeka and Shawnee County Public Library website.
Board Briefs
Carole Jordan will present the Fair Votes, Fair Maps Committee report to the Shawnee County legislative delegation on December 10.
Carole Jordan asked for volunteers to serve on a special committee to address the 2022 vote on the proposed Kansas constitutional abortion amendment.
Tuesday Topics will be held both in-person and online via Zoom January – March, 2022. Members will be required to register each time to attend online.
Lana Balka, chair of the Fundraising Strategies Committee, is recruiting committee members.
State League Day
Saturday, December 4 | 9am – noon | Zoom
Celebrate the accomplishments of the League and learn more about some of our important work. Register now and choose to pay your $5 registration fee via PayPal or check.
State League Action Alerts & Newsletter
Stay informed of State League of Women Voters Action Alerts and monthly VOTER Notes.