Our monthly newsletter, The VOTER, provides information on League programs and events, and updates on our advocacy efforts, among other topics.
Ginger Park, Communications Chair
Articles for the Voter are due the Friday after the monthly Board of Director's meeting held on the second Tuesday of the month.
---
THE VOTER
June 2022

Calendar of Events
Tuesday, June 7, Noon, Tuesday Topics: Community Connections Librarian Lissa Staley, Topeka and Shawnee County Public library, will share insights and experiences with the "Reframing Topeka" project, a local issue guide created with the Topeka and Shawnee County community to encourage and support deliberative conversations on the question of "How We Should Improve Topeka." You can download the issue guide and find related events including upcoming community deliberations and notes from previous events. Zoom Link & Instructions June 2022
May – June: Kansas Coalition for Constitutional Freedom will be educating voters. Saturday, May 21 Day of Action – sign up to volunteer.
June – August: Kansas Coalition for Constitutional Freedom will be calling and going door to door to education voters on the proposed Constitutional Amendment.
June 18: Poor People's March on Washington Poor People's Campaign – A National Call for Moral Revival
June 21: LWVTSC Membership Social Outdoor Event
June 23-26: League of Women Voters National Convention Denver, Colorado or Virtual
Tuesday, August 2: Kansas primary election and the vote on the constitutional  amendment abridging reproductive freedom.
President's Perspective
Opening additional locations for pre-election voting, getting out into the community, and working with the Kansans for Constitutional Freedom non-partisan coalition have been the focus this month.
Voter Services News

Are you ready to get back out into the world and help our community engage in voting? We need you! The voter services committee has lined up a number of voter registration events this summer. Come and tell your voting story and connect with others so they can become passionate about voting too.
Read full June Voter Services Report
LWV Statement on Reproductive Rights
National LWV reminds us of its position on reproductive rights. The League has a policy dating back to 1983 supporting all Americans' rights to privacy for health care decisions. That includes reproductive rights. Read statement LWV Reproductive Rights
Facts on Constitutional Amendment Question on Aug 2 Ballot
In the August 2 Primary and Special Election to Change the Kansas Constitution YOU can help determine the rights of Kansans for many years to come by registering to vote and then voting whether to change the Kansas Constitution. According to a poll conducted by the Docking Institute of Public Affairs at Ft. Hays University, more than 60 percent of Kansans oppose further restrictions on abortion. Abortion is already highly regulated in Kansas. Read full fact sheet that clarifies voting options.
Summary May Tuesday Topics
The May Tuesday Topics "The Truth About Critical Race Theory" presented by Washburn University professors Dr. Tom Prasch, Chair, History/Geography & Dr. Sara Kendall-Morwick, Assistant Professor of English. Read the full summary of Tuesday Topics May 3, 2022.
Local Observer Reports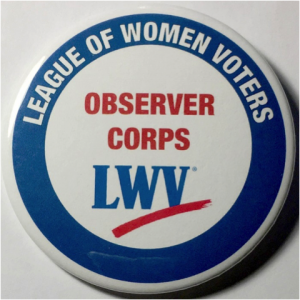 Read about league members appointed to Topeka City Advisory boards.
LWV observers keep you informed about what is happening in local government. The Local Observer Corps volunteers attend city, county and school board meetings and take notes.
Read the June Observer Reports.
LWVTSC Book Club
Our book club meets at noon via Zoom on second Friday of the month noon to 1 p.m. Contact carolejordan53@yahoo.com if you'd like to join us. Upcoming books:
June 10, 2022 – Invisible Women by Caroline Criado Perez (available from library on Hoopla)
July 8, 2022  – Elevations by Max McCoy
August 12, 2022 – Mindset by Carol Dweck
Board Briefs
Board did not meet in May due to multiple members being on vacation.
State League Action Alerts & Newsletter
Stay informed of State League of Women Voters Action Alerts and monthly VOTER Notes.