Our monthly newsletter, The VOTER, provides information on League programs and events, and updates on our advocacy efforts, among other topics.
Ginger Park, Communications Chair
Articles for the Voter are due the Friday after the monthly Board of Director's meeting held on the second Tuesday of the month.
---
THE VOTER
December 2022

Calendar of Events
December 6| Noon | Topeka & Shawnee County Public Library or Zoom

Topeka Mayor Mike Padilla and City Manager Stephen Wade will talk about the city plans for 2023.Attend in person in the library's Marvin Auditorium BC or attend by Zoom. Lunch can be purchased from the Millennium Cafe and brought into the meeting room.
President's Perspective
We've made it through a busy year of educating voters and helping them register themselves for the primary and general elections. We've been everywhere! Now it's time to celebrate before we get back to work!
Voter Services News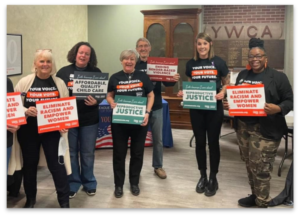 The Voter Services team leaned into the end of the election cycle this year. We had meaningful conversations with people and gave them information about ballot initiatives. Some of us used Voter-to-Voter to help track our progress in making personal connections with others about voting. Some put on their shoes and visited their neighbors to talk about voting. Many of us spent more than 13 hours on election day helping our community vote.
Read full Dec 2022 Voter Services article.
Renew Your Membership
November & December are the months we collect membership dues. LWVTSC dues are for Jan – Dec 2023. Your dues give you membership in three levels of the League: local, state and national. Dues for 2023 remain:
$62 for an Individual Membership
$101 for a Household Membership
Students are still free! (Must be working toward degree or certificate)
To be a sustaining member add $30 to your payment. The entire $30 donation supports our local league.
Payment options: 
Credit card online. $3.50 processing fee. 
Send a check payable to "LWVTSC" to Allan Foster, 6321 SW 25th St, Topeka, KS 66614 (or just give Allan a check to at Dec 6 Tuesday Topics).
Please renew your membership. These dues sustain our important work. Given the challenges to voting at all levels, your support is needed more than ever!
Summary October Tuesday Topics
The November speaker, Valerie Mendoza, Lecturer and director of the Strengthening Institutions grant at Washburn University, presented Beyond Brown: Mexican Struggles for Equality Before and After Brown v. Board. Read a summary of Tuesday Topics Nov 4, 2022 or watch the recording.
Local Observer Reports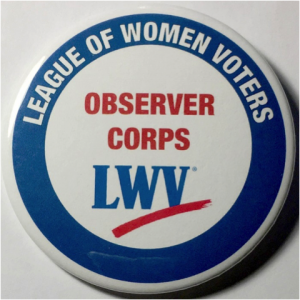 See which
Topeka City Council district
is vacant and if you qualify to apply.
LWV observers keep you informed about what is happening in local government. The Local Observer Corps volunteers attend city, county and school board meetings and take notes.
Read the Dec 2022 Observer Reports
Welcome New Members
We would like to recognize and welcome those members who have joined since the start of September (as of 11/10/22):
Marda Neufeld
Alicia Hay
Helen Woerner
Carol Benoit
Susan Holm and David Wexler
Beth and Caroline Toland
Jim Prentice
Judy Hutchinson
We love new members and the new ideas and energy they bring.
Board Briefs
The board did not meet in November 2022.
State League Action Alerts & Newsletter
Stay informed of State League of Women Voters Action Alerts and monthly VOTER Notes.