Our monthly newsletter, The VOTER, provides information on League programs and events, and updates on our advocacy efforts, among other topics.
Ginger Park, Communications Chair
Articles for the Voter are due the Friday after the monthly Board of Director's meeting held on the second Tuesday of the month.
---
THE VOTER
April 2023

Calendar of Events
April 4 | Noon | Topeka & Shawnee County Public Library or Zoom

This will be the chapter's annual meeting to review any bylaw changes, review plans for the year and vote on new officers. Attend in person in the library's Marvin Auditorium BC or attend by Zoom. Lunch can be purchased from the Millennium Cafe and brought into the meeting room. We recommend you arrive around 11:15am if you plan to purchase lunch from the cafe.
President's Perspective
I just realized there is no way to write about time without being incredibly trite. Time moves like a river, it flies, it vies with the speed of light, it moves right along. But here it is – the last two years have passed in a blur. Two years ago I was worrying about the annual meeting and starting a stint as LWVTSC president. Now I'm thinking about passing the gavel along to president-elect Mary Lou Davis.
Voter Services News
Thank you to all the high school voter education presenters this spring semester. We presented for six of our Shawnee County high schools educating just about 300 new voters. The partnerships we have with our high schools expanded to Heritage Christian School this semester.
Read full Voter Services Report.
Central Topeka Grocery Oasis to lease land from GraceMed for planned grocery storew

This headline in the Topeka Capital Journal marked years of work by a grassroots group of Topekans to get a grocery store into a food desert. Two members of the League have been active in this group – Marge Ahrens and Marc Galbraith. Ahrens is a former LWVTSC president.
"Our grassroots efforts for a grocery have gathered hardworking partners in the city, county and state focused on equity, justice and health for our neighbors," said Marge Ahrens, CTGO chair. "We are grateful to GraceMed Health, and all who share in our celebration of the ability to build a community store on this excellent Central Topeka site. We will need many hands and hearts to fulfill this mission," Ahrens told WIBW.
Summary March Tuesday Topics
The March speaker, Professor Richard E. Levy from the University of Kansas School of Law discussed the significance of the U.S. Supreme Court's interpretive methods for the outcome of important constitutional decisions. Read a summary of Tuesday Topics March 7,2023.
Local Observer Reports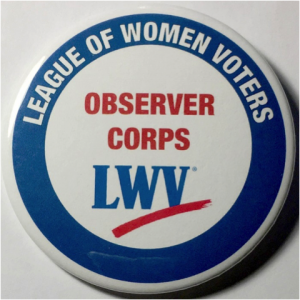 The Shawnee County BOCC got the first ride on the new Gage Park Mini-train March 13 during their "work" session.
LWV observers keep you informed about what is happening in local government. The Local Observer Corps volunteers attend city, county and school board meetings and take notes.
Read the April Observer Reports.

Board Briefs
The annual meeting will be held at noon on Tuesday, April 4. Watch for the annual meeting booklet to see what we will be doing.
The state convention will be April 22 in Wichita. It will be hybrid, both in person and on Zoom. LWVTSC will have 12 delegates.
State League Action Alerts & Newsletter
Stay informed of State League of Women Voters Action Alerts and monthly VOTER Notes.