Our monthly newsletter, The VOTER, provides information on League programs and events, and updates on our advocacy efforts, among other topics.
Ginger Park, Communications Chair
Articles for the Voter are due the Friday after the monthly Board of Director's meeting held on the second Tuesday of the month.
---
THE VOTER
October 2023

Calendar of Events
October 3 | Tuesday Topics | Noon | Topeka & Shawnee County Public Library or Zoom
Artist, illustrator, writer and gallery owner Barbara Waterman-Peters will discuss arts in Topeka. Attend in person in the library's Marvin BC or attend by Zoom. You are welcome to purchase lunch from the Millennium Cafe and bring it into the meeting room. If you purchase lunch, we recommend you arrive at 11:15am.
Tuesday, October 24 | Topeka City Council Candidate Meet & Greet | 5:30-7 pm  | Topeka & Shawnee County Public Library
Talk to the candidates from your city council district to ask questions and learn about their plans if elected. This will help you make an informed decision when you vote.
President's Perspective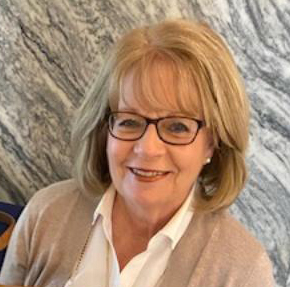 What is your voting plan for the upcoming November 7 local elections? 
Oftentimes, we hear all politics is local. That's certainly the case this November when Topeka, Auburn, Rossville and Silver Lake city council seats will be on the ballot. Equally important are school board elections—Topeka (USD 501), Shawnee Heights (USD 450), Washburn Rural (USD 437) and Seaman (USD 345). Some school districts extend into the outskirts of Shawnee county; for which residents in those areas will be selecting board members for Santa Fe Trail (USD 434), Silver Lake (USD 372), Jefferson West (USD 340), Mission Valley (USD 330) and St. Mary's (USD 321).
Local Observer Reports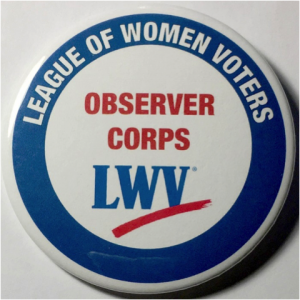 LWV observers keep you informed about what is happening in local government. The Local Observer Corps volunteers attend city, county and school board meetings and take notes. Read the
October Observer Reports
Successful "Fun Raiser"
We are very pleased to announce that "Purses with a Purpose" was not only a successful fundraiser, clearing more than $3,000, but also a great "fun raiser," attended by 40 members and 19 guests. Read more.
August Tuesday Topics Summary
At the August Tuesday Topics Mary Torrence and Mary Galligan talked about the Kansas Oral History Project. Read a summary of the presentation. Read the full summary Tuesday Topics August 1, 2023.
Readers Wanted
Our LWVTSC book club has monthly meetings the second Friday of the month at the library. We would love to have some new members!
Dates, books & room for upcoming meetings
Oct. 13: White Hot Hate by Dick Lehr, Claire's Sunroom
Nov. 10: Making Young Voters by John B. Holbein & D. Sunshine Hillygus, Claire's Sunroom
Dec. 8: How the Word is Passed by Clint Smith, Claire's Sunroom
Board Briefs
We have a new mailing address:  League of Women Voters of Topeka-Shawnee County, PO Box 67251,Topeka, KS  66667. 
Can you help? We need volunteers for the Observer Corp (USD 501 Board meetings and Shawnee County Commission) and for Voter Services (tabling events and high school voter presentations/registrations).
The Purses with a Purpose fundraiser was not only great fun, it netted more than $3,000.
The Legislature's Interim Committee on Elections will meet on September 29-29. Mary Lou Davis and Carole Jordan will represent us.
A Meet and Greet event with City Council candidates, sponsored by the League and several other non-profits, will be held October 24 at TSCPL beginning at 5:30pm.
State League Action Alerts & Newsletter
Stay informed of State League of Women Voters articles & news.