President's Perspective
December 2021                                                               
Be Thankful and Share the Gifts
For just a moment, let us give thanks.   
In 1962, President John F. Kennedy said, "Let us therefore proclaim our gratitude to Providence for manifold blessings—let us be humbly thankful for inherited ideals—and let us resolve to share those blessings and those ideals with our fellow human beings throughout the world."
The League of Women Voters was founded in 1920 in gratitude for a successful end to the grueling fight for the vote for women, and with the knowledge that the fight was not over, a pledge to continue to fight for the vote for all Americans. The fight continues.
I am grateful for our League of Women Voters, our volunteers and our generosity in working to help others register and vote, engaging with our community, examining and clarifying issues that affect our state and nation, and carrying on the fight.
But with that gratitude, I remind us all that our needs continue. November is the month we give thanks and pay our dues to keep the work going. With that in mind, I asked our thrifty and efficient treasurer, Theresa Kiernan, to explain our dues. Here's what she told me.
"Each year the Topeka-Shawnee County League collects dues for the state and national leagues, as well as our own operations.
"Currently, an individual pays $62 in dues. Of that amount $32 is for the LWVUS, $22 is for the LWVK and $8 is for us in Topeka. A household pays $101 in dues. Of that amount $48 is for the LWVUS, $29 is for the LWVK and $24 is for us. Student members do not pay dues, which we consider a good investment in growing future League members.
"On January 31, 2021, we had 83 individual memberships and 20 household memberships. We had 29 student memberships. Of the $7,166 collected in dues only $1,144 was retained by the LWVTSC. "
In the spirit of Thanksgiving, let's think of this as a pie.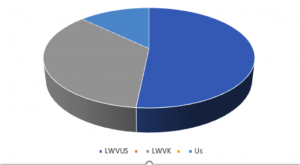 As you can see, our piece of the pie is not large. We need all our dues dollars and more to do the work ahead of us. We don't begrudge the benefits our dues bring us from the state and local league, but we do need to keep our budget in the black.
Dues fund the General Administration and Operations (GAO) line item in our budget. This year we budgeted $3,700 for GAO, which is about $2,600 in excess of the amount we received in dues. The shortfall is made up through sustainer contributions and other donations and fundraising activities. 
Items of expenditures included as GAO expenditures include, but are not limited to: 
Voter Services expenses
Voter Education expenses
Printing expenses
Ink
Postage
Paper
Board expenses
State and National Convention expenses – travel, meals, hotel
Candidate Forum expenses
Special expenditures such as those for the billboards encouraging voter registration
Application fees, such as the application fee for 501 (c)(3) application 
Thankful for You
Thank you for being a volunteer with the League of Women Voters. Wishing you a Thanksgiving filled with family and friends, gratitude and sharing.
Bits and Pieces
There's been little action on the lawsuit front. The injunction against the portion of the new law that would make it a felony to "impersonate an election officer" was denied by the Shawnee County judge. That was appealed directly to the Kansas Supreme Court, but now will be heard sometime in the Court of Appeals. The State of Kansas has filed another motion to dismiss the case and we remain in a holding pattern.
Thanks to Jan Martens for representing us on the grassroots group, the Topeka Voter Collaborative.
Don't forget the Dec. 4 virtual League Day. Sign up now.
Thanks to Mary Galligan for all she does but especially for leading her Fair Votes, Fair Maps team. Read their full report.
Congratulations to League member Jacquie Lightcap on her reelection to the Auburn-Washburn School Board.
The state League will be joining a coalition of groups called the Kansans for Constitutional Freedom that opposes the constitutional amendment on reproductive rights that will be voted on at the Aug. 2, 2022 primary election. If you're interested in serving on a special committee on this issue, email me at carolejordan53@yahoo.com.