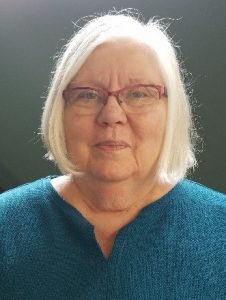 President Vicki Arnett
President's Perspective
February 2021                                                               
2020 was a year that reminded me how grateful I am for the people in my life. My granddaughter and I have learned to be creative with Facebook messenger video by reading books and having dance parties. We are going to try a craft project together soon. I am also grateful for league members. By generously donating your time, talent and treasure to the league, we continue to do our core voter services and civic engagement work. Like our suffrage sisters of the past, our work will carry us into a strong future.
Since league members are not ones to rest on our accomplishments, I want to tell you about significant work achieved since the November general election. Our league received a grant from the Kansas Leadership Center to support the Kansas Beats the Virus Campaign. Along with community partners, Topeka NAACP and LULAC, we are sponsoring two billboards with COVID-19 safety messaging for three months. The billboards are located at 6th & Laurent and 27th & California. Many thanks to the Kansas Leadership Center. We will continue to post Kansas Beats the Virus information on our social media.
We have a great line up of speakers to kick off 2021 Tuesday Topics. In February, we will hear from Dr. Amber Dickinson, Washburn University Political Science professor discussing Redistricting in Kansas. Review more information about the league's national and state positions on fair and representative redistricting, known as People Powered Fair Maps.
Also, on Tuesday, February 16, 2021 at noon our league will hold our local concurrence meeting to review the proposed revision to the state league position on criminal justice. This meeting will be via zoom. View the proposed revision. The final vote on the position revision will take place at the state annual virtual convention Saturday, April 24, 2021. Please plan to attend and make your voice heard on this important issue.
Please remember to renew your membership in the league. Benefits of membership are, as they say, priceless.