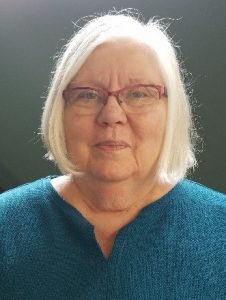 President Vicki Arnett
President's Perspective
December 2020                                                                 
November is our membership renewal month. 2021 dues remain
Individual-$60
Individual Sustainer-$90
Household-$100
Household Sustainer-$130
Full time students-Free
Please consider adding a donation to your dues. Checks should be made out to LWVTSC and sent to Theresa Kiernan, Treasurer, 3620 SW York Way, Topeka, KS 66604. Or you may pay online. Support our great work together.
Our board held our first virtual new member welcome event on Nov. 11. We welcomed four new members. Our current membership is 182!
We appreciate the hard work of our voter services co-chairs, Leslie Prentice and Mary Galligan, all of our community volunteers who registered voters during food distributions, high school classes, wrote post cards, made phone calls and walked door to door to distribute voter information. Although the numbers are not yet certified by the Secretary of State, Shawnee County experienced record turn out in the 2020 general election. We are now preparing for the next election. As my mother used to say, "no rest for the weary and the righteous don't need any." This is truly righteous work.
Congratulations to our member, Marietta "Marty" Patterson. The Topeka Human Relations Council awarded Marty the Troy Scroggins Awards for her work on caring for the legacy of Brown v. Board.
Our December 1, 2020 virtual Tuesday Topics program will be a discussion with local elected officials from the Topeka City Council and Shawnee County Commission. The virtual format will be a webinar via Zoom. The experience will be slightly different for the audience than our Zoom meeting format. The primary differences are, during a webinar only the panel and meeting hosts or co-hosts will be visible on the screen. Questions from the audience will be placed in the Q & A box and then addressed to the panelists by the host or co-hosts. Participant video will be turned off and participants will be muted for the duration of the program. Thanks for your patience as we attempt our first webinar.
Our league will be called upon early in 2021 to hold a virtual membership consensus vote to address proposed revisions to the state league Criminal Justice policy position. The issues to be voted on will be sent to members and posted on our website as soon as they are received from the state study committee.
Enjoy the peace of the holidays. We have a year of exciting programs ahead.