President Vicki Arnett
President's Perspective
June 2020
I hope everyone is feeling safe and healthy. If you are able to join our virtual Tuesday Topics via Zoom, please do. It will be great to see your faces during this time away. If you are unable to join us, the recording of our speaker will be available on the library website within a few days of our meeting. Our collaboration with the Topeka Shawnee County Public Library continues!  
Voter Services continues to be hard at work. Please see their report regarding ways you can continue to be involved with voter registration safely.  
Since we have been unable to meet in person following the formation of our new board, I am using this column to introduce you to our board members. I'll start with Voter Services.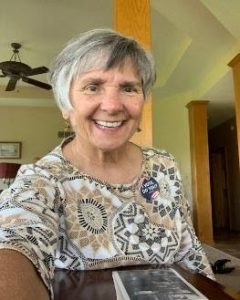 Leslie Prentice
Leslie Prentice assumes a new role as co-chair of Voter Services responsible for voter education in the schools. She spent several years on the board as advocacy chair and continues to be a legislative observer for the state league. Leslie spent her time at home in March revising and revitalizing our secondary education presentations. 
"I retired in October 2016 after working over 30 years as a staff attorney at federal district court in Topeka," said Leslie. I worked on prisoner cases. I have enjoyed retirement very much, especially day time to be physically active. I joined the LWVTSC in 2018. My first motivation was the wonderful Carol Green. She encouraged me to join, sent me the newsletter, and told me about the bright, active people in the League. She was right. My personal motivation was a desire to take part in our democracy. I am married to Jim Prentice, who still works at the federal court. We have two sons, but they and our grandchildren live states away. I love the League."    
Mary Galligan  
The members of the League of Women Voters of Topeka-Shawnee County elected Mary Galligan to its Board in 2019. In addition to co-chairing Voter Services, Mary chairs the Bylaws and Policy Committee. Her term expires in 2021.
Mary joined the League in 2010 and served on a statewide committee studying the League's position on tax policy. She has also contributed to studies of League positions on education and aspects of local government. Mary joined Voter Services as a volunteer in 2017. During 2019 and 2020, Mary served on the State League's committee on the People Powered Fair Maps project and the Technical Committee supporting the State League's March to the Polls project.
Mary worked for the Kansas Legislature in its Research Department for nearly 30 years retiring from the position of Associate Director in 2010. In addition to administrative and management duties, she provided professional staff support to a variety of committees including the House and Senate Ways and Means, House and Senate Federal and State Affairs, House and Senate Redistricting and Apportionment, Joint Committee on Tribal Gaming Compacts, Legislative Educational Planning, and House Utilities. After leaving the Research Department, Mary worked on special projects for the Kansas Board of Regents and the Kansas Corporation Commission.
Mary has developed an online voter registration education for volunteers. She has developed a QR code for voters to register or check their registrations instantly from their phones. Mary is a great writer and has assisted the board in developing a new non-partisan policy. She has also used her organizational skills to organize historical LWVTSC documentary records electronically. Mary also agreed to serve at our league's first compiler of documents.