President's Perspective
December 2022
A Brief Respite
We've made it through a busy year of educating voters and helping them register themselves for the primary and general elections. We've been everywhere! Now it's time to celebrate before we get back to work!
We're Happy, and We're Having a Happy Hour
The League of Women Voters of Topeka-Shawnee County has the most amazing volunteers! We do it all ourselves, with a little help from our friends like the Topeka Voter Collaborative, the Topeka & Shawnee County Library, the YWCA, and others. We have no paid employees.
We're happy about our volunteers, so we're hosting a Happy Hour, Saturday, December 10 from 5 to 7 at Terry's Bar and Grill in Topeka. We'll provide snacks and cake. Come be happy with us.
Empowering Voters. Defending Democracy.
This is our mission, and I've never been so proud of it. President Deborah Turner of the League of Women Voters of the U.S. said after the general election, "Millions of Americans made their voices heard at the polls with few to no disruptions. Voter turnout shattered previous records with more than 42 million people voting early."
YOU helped that! YOU volunteered to do our newsletter, plan our meetings, talk to potential voters, do research, attend committee meetings, be an ambassador to our community. YOU power democracy.
Share the Opportunity
The League of Women Voters is a great place for people who want to make a difference in our Topeka community. Democracy feels immediate and real right here, right now. Everyone has skills the League can use to continue nearly a century of fighting for voter rights. Our volunteers are our face out in the community at tabling events. They go into our high schools in the fall and spring to help 17- and 18-year-olds get ready to vote, and volunteers are always needed for that activity. We lobby for easier access to public meetings and to voting. We research and study issues. A League member can spend an hour a month or an hour a day—depending on their time and abilities—to have the satisfaction of making a difference. Right now, you have a friend who's just waiting to be asked to join us. So ask them!!!
The Gift (?) That Keeps on Giving
When the 2021 Kansas Legislature passed House Bills 2183 and 2332, they gave the League of Women Voters of Kansas and collaborating groups that want to protect voters' rights a "gift" that continues today. A brief to the Kansas Supreme Court was filed Nov. 9, a decision from the Court of Appeals is still awaited, and we are prohibited from doing direct voter registration on paper forms. That hasn't stopped us from helping voters get registered online or from helping educate voters about what's on the ballot. You can read the whole story here: Court Cases – Kansas Voter Suppression Laws (LWV) – Democracy Docket.
Another Opportunity to Serve
Our nominating committee, led by Ethel Edwards, will be getting to work soon. If you know someone who would be a great board member, let me know so I can get his or her name to the committee.
Advocacy Issues
Our Advocacy Committee focuses on local issues. Their three issues for the year are (1) getting more pre-election voting sites open in the Capitol City, the only large Kansas town with no satellite locations to make early voting more accessible to residents; (2) making meetings more accessible to working people by instituting night county commission meetings; and (3) searching for ways to make voter registration and education for high school students available in all 105 counties.
The state advocacy committee has developed a list of statewide legislative priorities to monitor. This list will be available soon.
Book Group in a Bag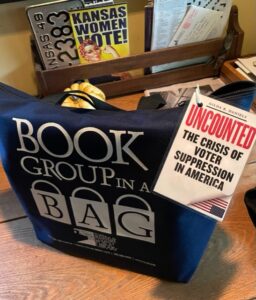 Our LWVTSC book club will be reading "Uncounted: The Crisis of Voter Suppression in America" by Gilda R. Daniels in December. Our League donated the books for this Book Group in a Bag at the Topeka & Shawnee County Public Library. If you belong to another book group that reads nonfiction, you might want to check this out for your group.