Connect with LWV Topeka & Shawnee County



DonateJoin/Renew
---
The League of Women Voters across the nation is working on a redistricting program called People Powered Fair Maps to encourage every state to create fair maps during this round of redistricting.  Of course, fairness is always a matter of perspective, but the League is most interested in its core value of being sure that every voice is heard in the democratic process. 
Public Hearings
The legislative Redistricting committees held a "Listening Tour" of public hearings in these 14 cities August 9-13:  Chanute, Colby, Dodge City, Garden City, Hays, Hutchinson, Kansas City, Lawrence, Leavenworth, Manhattan, Overland Park, Pittsburg, Salina, Wichita.  See the written testimony submitted at those hearings on the Committee pages (the same testimony is posted on the two committees' pages): 
House Committee on Redistricting — Agendas and Minutes  and Committee Documents
Senate Committee on Redistricting — Agendas and Minutes and Committee Documents
View audio/video recordings of the "Listening Tour" hearings.
Learn why redistricting hearings are important.
Learn more about how you can get involved in this important work.
As with all the League's work, we encourage community members to work together and stay engaged with their elected representatives.  Watch the Fair Votes Fair Maps page and the LWVTSC Facebook page for events and more information.
---
Election Information
Visit ksvotes.org to register to vote, change your information or check your registration.

Check Vote411 — Use our online voters' guide to see the races and issues on your ballot. Compare candidates side-by-side and read their views on the important issues in their own words
---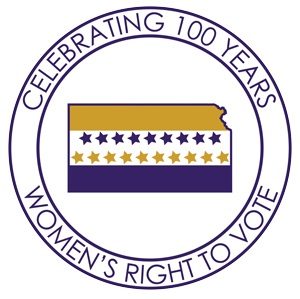 19th Amendment Centennial Celebration Activities
City of Topeka Women's Equality Day Proclamation 2020
Find LWV Statewide centennial event information including the traveling exhibit schedule.
Our League continues to meet and upcoming events will be announced as finalized. The public is invited to attend any of these events. 
---
The VOTER

We publish monthly newsletters summarizing our local activities. 
---
News

August 1, 2021 – League of Women Voters of Kansas Expresses Disappointment with Late Night Listening Tour Announcement
TOPEKA, KS – The League of Women Voters of Kansas expressed its disappointment with the Friday evening release of the Kansas House and Senate Redistricting Committees' "Listening Tour" scheduled for Aug. 9-13. The scheduled "Listening Tour" is in preparation for the 2022 round of redistricting. 
"We're disappointed that the Legislative Redistricting Committees released the "Listening Tour" on short notice and that it will be conducted in a single week," said Martha Pint, co-president of the League of Women Voters of Kansas. "We're also concerned the 'Listening Tour' is being held prior to the Census Bureau's release of the detailed population counts that are needed to draw new districts." 
In contrast, the hearing schedule in 2011 covered the same 14 cities from July to October.  (Read the release at LWVK.org)
July 19, 2021 – League of Women Voters of Kansas Encourages Kansas Legislature to Adopt Criteria for Public's Full Participation in Redistricting
TOPEKA, KS – The League of Women Voters of Kansas sent a letter to both the Kansas Senate and House Redistricting Committees advocating for the public's participation in the upcoming redrawing of district voting boundaries. 
Martha Pint, Co-President, said, "The League is committed to ensure that Kansans have the opportunity to provide input at public gatherings and hearings, to have their voices heard on Legislation that impacts them." (Read the release at LWVK.org)
June 17, 2021 – Kansas Civic Groups File Motion for Temporary Injunction Against New Voter Education Restriction
TOPEKA, KS – Today, the League of Women Voters of Kansas, Loud Light, Kansas Appleseed Center for Law and Justice, and the Topeka Independent Living Resource Center filed a motion for temporary injunction, asking the Court to bar the state from enforcing its newly enacted "Voter Education Restriction." The new law makes it a crime to engage in conduct that "gives the appearance of being an election official" or "that would cause another person to believe a person engaging in such conduct is an election official," effectively chilling the ability of organizations like the plaintiffs to provide voters with information and assistance in casting their ballots. (Read the release at LWVK.org)
June 1, 2021 – Kansas Civic Groups File Lawsuit Against Newly Enacted Voter Suppression Laws
TOPEKA, KS – Today, the League of Women Voters of Kansas, Loud Light, Kansas Appleseed Center for Law and Justice and the Topeka Independent Living Resource Center filed a lawsuit challenging newly enacted voting laws in Kansas that will make it more difficult for Kansans to vote. House Bill 2183 and House Bill 2332 violate the Kansas Constitution by interfering with Kansans' voting, due process and free speech and association rights. (Read the release at LWVK.org)
---
League of Women Voters of Kansas News