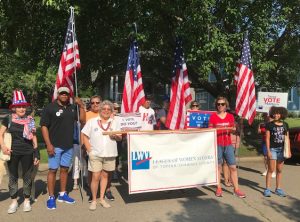 We are a nonpartisan organization that promotes political responsibility through informed and active participation of citizens in government.
Join us on the first Tuesday of every month for our public information session. Learn more!
Tuesday Topics

October 4 | Noon | Topeka & Shawnee County Public Library or Zoom

The October speaker, Dr. Bob Beatty, Washburn University Professor & Political Science Chair, will talk about the upcoming Kansas election. Attend in person in the library's Marvin Auditorium BC or attend by Zoom. Lunch can be purchased from the Millennium Cafe and brought into the meeting room.
The September speaker, Dr. Joan Duwve, Kansas Department of Health & Environment, State Health Officer presented Polio, Monkeypox and COVID-19 – The things I wish everyone knew! Read a summary of Tuesday Topics September 6, 2022.
Candidate Forum
Tuesday, October 4 | 7pm | Candidate Forum: Hear from Shawnee County candidates for the Kansas House of Representatives. Attend in person at the library or register to attend by Zoom.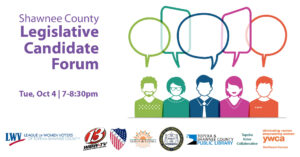 ---
October 2022

Carole Jordan, Chapter President

So many links, so much information, so many opportunities … so little time. This month's column is a patchwork of news you can use, League of Women Voters!
Read the full message from our President
---
Join us to Make Democracy Work!
The League of Women Voters has two separate and distinct roles:
Voters Services/Citizen Education: We present unbiased nonpartisan information about elections, the voting process and issues.

Action/Advocacy: We are also nonpartisan; but after study we use our positions to advocate for or against particular policies in the public interest.
Join LWVTSC and start making a difference in our community. League membership is open to all women and men age 16 or older.
Follow us on Facebook: 
League of Women Voters of Topeka-Shawnee County
The League of Women Voters is a nonpartisan political organization encouraging the informed and active participation of citizens in government. It influences public policy through education and advocacy. We do not support nor oppose any political party or candidate.