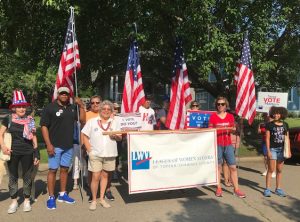 We are a nonpartisan organization that promotes political responsibility through informed and active participation of citizens in government.
Join us on the first Tuesday of every month for our public information session. Learn more!
Tuesday Topics

November 2, 2021 | Noon | Zoom
Zack Pistora of the Sierra Club will update us on environmental issues. The Sierra Club is a national organization that works for solutions to the climate crisis, fights for environmental justice, and believes in encouraging people to get outside and enjoy Kansas. Zack is the legislative director/ state lobbyist for the Kansas Chapter of the Sierra Club. 
LWV Members, watch your email for the Zoom link.
Non-members, register for the Zoom link with the Topeka and Shawnee County Public Library.
Read a summary and/or watch the recording of Brian Cole, Shawnee County Department of Corrections, and Bill Persinger, Valeo, presentation on the "Stepping Up" initiative to reduce the number of people with mental illnesses in jails.
---
November 2021

Carole Jordan, Chapter President

I have a confession to make. There have been a few times in the past when I went into the voting booth without having researched my local school board races. Other positions got more publicity and had more money for advertising, so the school board was low on my list, leaving me guessing or not voting at all in some important local contests. I admit I was wrong. I'll never do it again. Read my full message to learn why.
Read the full message from our President
---
Join us to Make Democracy Work!
The League of Women Voters has two separate and distinct roles:
Voters Services/Citizen Education: We present unbiased nonpartisan information about elections, the voting process and issues.

Action/Advocacy: We are also nonpartisan; but after study we use our positions to advocate for or against particular policies in the public interest.
Join LWVTSC and start making a difference in our community. League membership is open to all women and men age 16 or older.
Follow us on Facebook: 
League of Women Voters of Topeka-Shawnee County
The League of Women Voters is a nonpartisan political organization encouraging the informed and active participation of citizens in government. It influences public policy through education and advocacy. We do not support nor oppose any political party or candidate.