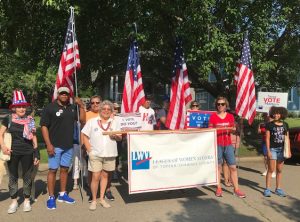 We are a nonpartisan organization that promotes political responsibility through informed and active participation of citizens in government.
Join us on the first Tuesday of every month for our public information session. Learn more!
Tuesday Topics

August 2 | Noon | Zoom

Donna Rae Pearson, Local History Librarian, will discuss Redlining and how it has affected the development of the Topeka community. Redlining is a discriminatory practice denying loans or services to certain areas of a community, often because of the racial characteristics of the applicant's neighborhood. Zoom Link & Instructions July &_Aug 2022
The July Tuesday Topics speaker Dr. Sharon Sullivan, Washburn University Professor and Theater Department Chair, discussed women's reproductive rights and the constitutional amendment on the August ballot regarding women's rights to abortion. Read the full summary of Tuesday Topics July 5, 2022
Other Important Upcoming Events
June – August: Kansas Coalition for Constitutional Freedom will be calling and going door-to-door to education voters on the proposed Constitutional Amendment.
Tuesday, August 2: Kansas primary election and the vote on the constitutional  amendment abridging reproductive freedom. Read fact sheet.
---
August 2022

Carole Jordan, Chapter President

Here's what Vicki Arnett, Mary Lou Davis, Allan Foster, Mary Galligan, Carole Jordan and Susan Quinn did this summer—we went to a convention without rooms or social hours, even without nametags.
Read the full message from our President
---
Join us to Make Democracy Work!
The League of Women Voters has two separate and distinct roles:
Voters Services/Citizen Education: We present unbiased nonpartisan information about elections, the voting process and issues.

Action/Advocacy: We are also nonpartisan; but after study we use our positions to advocate for or against particular policies in the public interest.
Join LWVTSC and start making a difference in our community. League membership is open to all women and men age 16 or older.
Follow us on Facebook: 
League of Women Voters of Topeka-Shawnee County
The League of Women Voters is a nonpartisan political organization encouraging the informed and active participation of citizens in government. It influences public policy through education and advocacy. We do not support nor oppose any political party or candidate.