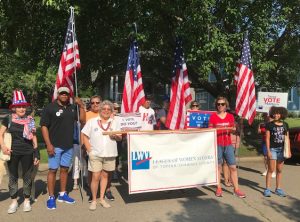 We are a nonpartisan organization that promotes political responsibility through informed and active participation of citizens in government.
Join us on the first Tuesday of every month for our public information session. Learn more!
Tuesday Topics

July 5 | Noon | Zoom

Dr. Sharon Sullivan, Washburn University Professor and Theater Department Chair, will discuss women's reproductive rights and the constitutional amendment on the August ballot regarding women's rights to abortion. Zoom Link & Instructions July_Aug 2022
The June Tuesday Topics Community Connections Librarian Lissa Staley, Topeka and Shawnee County Public library, shared insights and experiences with the "Reframing Topeka" project, a local issue guide created with the Topeka and Shawnee County community to encourage and support deliberative conversations on the question of "How We Should Improve Topeka." Read the full summary of Tuesday Topics May 3, 2022.
Other Important Upcoming Events
June – August: Kansas Coalition for Constitutional Freedom will be calling and going door-to-door to education voters on the proposed Constitutional Amendment.
June 23-26: League of Women Voters National Convention will be in Denver, Colorado and virtual.
Monday, July 4, 10am: The League has been invited to march in the College Hill Neighborhood Parade. We will begin lining up at 9:30 a.m. at Boswell Park, 13th and Boswell, if you can join us.
Saturday, July 16: YWCA March and Rally for Abortion Rights, 11 a.m. on the South Steps of the Kansas Capitol. Learn more at Reproductive Justice – YWCA Northeast Kansas (ywcaneks.org).
Wednesday, July 20: Panel discussion on reproductive justice, 6 p.m. at St. David's Episcopal Church in Topeka.
Tuesday, August 2: Kansas primary election and the vote on the constitutional  amendment abridging reproductive freedom. Read fact sheet.
---
July 2022

Carole Jordan, Chapter President

Now we are counting down to what may be the most important primary election in our state's history, when voters will weigh in on an amendment to the Kansas Constitution that could cancel women's and families' rights to privacy and decision-making in matters of reproductive health. What a sad contrast to the progressive constitutional amendment of Nov. 5, 1912, that gave Kansas women the right to vote eight years before most of the rest of the country. Join us at the Kansas Statehouse July 16 at a march and rally for reproductive rights.
Read the full message from our President
---
Join us to Make Democracy Work!
The League of Women Voters has two separate and distinct roles:
Voters Services/Citizen Education: We present unbiased nonpartisan information about elections, the voting process and issues.

Action/Advocacy: We are also nonpartisan; but after study we use our positions to advocate for or against particular policies in the public interest.
Join LWVTSC and start making a difference in our community. League membership is open to all women and men age 16 or older.
Follow us on Facebook: 
League of Women Voters of Topeka-Shawnee County
The League of Women Voters is a nonpartisan political organization encouraging the informed and active participation of citizens in government. It influences public policy through education and advocacy. We do not support nor oppose any political party or candidate.