We are a nonpartisan organization that promotes political responsibility through informed and active participation of citizens in government.
Join us on the first Tuesday of every month for our public information session.
Learn how!
Tuesday Topics
The Divide Between People, Politics and Policy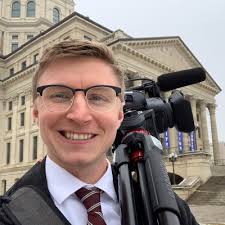 Davis Hammet, President of Loud Light, will present "The Divide Between People, Politics and Policy" at the League of Women Voters of Topeka-Shawnee County's Tuesday Topics meeting beginning at 12 p.m., Tues.,Oct 1, at the Topeka and Shawnee County Public Library.
Hammet graduated from Florida State University with a B.S. in Political Science (Cum Laude), certificate in Intensive Research Methods, and certificate in Urban Planning and Regional Development. He studied non-linear data analysis at U.C. Berkeley and worked under grants from the National Science Foundation studying political knowledge and the media.
Hammet is the former Director of Operations for the international progressive nonprofit Planting Peace where he worked to maintain and expand programs around the world from orphanages and medical relief to human rights and bully prevention. He co-created the rainbow colored Equality House across from the Westboro Baptist Church hate group and lived in it for 5 years.
Hammet's work and commentary has been covered in The New York Times, The Washington Post, CNN, MSNBC, and most other major outlets.
After several years of successfully organizing to win victories from the local to national level, Davis Hammet founded Loud Light to advance youth civic participation and mobilize underrepresented communities in Kansas.
The meeting is free and open to the public. Lunch will be available for $10 at 11:30 a.m.
---
October 2019 
Vicki Arnett, Chapter President
It is hard to believe fall is here and we are gearing up for another election day. Our Shawnee County Election Office is in need of poll workers. Please contact the election office to help. The more voters who register and then turn out to vote, the more poll workers are needed to assist with the election process. This November will be a good practice run for the 2020 elections. 
We continue to plan 19th amendment centennial events. Plans are underway for a community discussion led by the league, high school and college students on issues of civic engagement. Your modern suffragists are hard at work.  More to come. 
Your LWVTSC membership renews in November. Please keep your league strong by renewing your membership prior to the end of November 2019.  
Read more about other league activities and news from our President
---
Join us to Make Democracy Work!
The League of Women Voters has two separate and distinct roles:
Voters Services/Citizen Education: We present unbiased nonpartisan information about elections, the voting process, and issues.
Action/Advocacy: We are also nonpartisan; but after study we use our positions to advocate for or against particular policies in the public interest.
Join LWVTSC and start making a difference in our community. League membership is open to all women and men age 16 or older.
Follow us on Facebook: 
League of Women Voters of Topeka-Shawnee County  
The League of Women Voters is a nonpartisan political organization encouraging the informed and active participation of citizens in government. It influences public policy through education and advocacy. We do not support nor oppose any political party or candidate.