We are a nonpartisan organization that promotes political responsibility through informed and active participation of citizens in government.
Join us on the first Tuesday of every month for our public information session.
Learn how!
Tuesday Topics–
Department of Corrections Director to Speak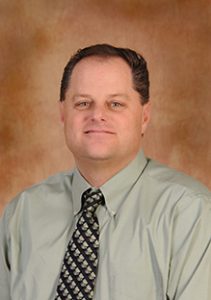 Brian Cole, director of the Shawnee County Department of Corrections, will give an update on the department at the League of Women Voters of Topeka-Shawnee County's Tuesday Topics meeting beginning at 12 p.m., Tues., Sept. 3, at the Topeka-Shawnee County Public Library.
The meeting is free and open to the public. Lunch will be available for $10 at 11:30 a.m. This month marks Tuesday Topics return to its fall and winter location, the public library at 10th & Washburn Ave.
---
 September 2019 
Vicki Arnett, Chapter President
We look forward to returning to the library for Tuesday Topics September 3.
I recently returned from a vacation to Seneca Falls, New York. I attended the annual re-enactment of the first women's rights convention in 1848. I heard the reading of the Declaration of Sentiments in Wesleyan Chapel, toured the Elizabeth Cady Stanton home, the M'Clintock home, Hunt House, and Waterloo Library where the Declaration of Sentiments was drafted. It was moving to be where these events took place.
I learned more about the role Frederick Douglas played in the convention, including the connection to the Kansas Free State Movement and the evolution of the League of Women Voters. The Seneca Falls Convention was just the beginning, and winning the vote would take 72 more years.
Read more about other league activities and news from our President
---
Join us to Make Democracy Work!
The League of Women Voters has two separate and distinct roles:
Voters Services/Citizen Education: We present unbiased nonpartisan information about elections, the voting process, and issues.
Action/Advocacy: We are also nonpartisan; but after study we use our positions to advocate for or against particular policies in the public interest.
Join LWVTSC and start making a difference in our community. League membership is open to all women and men age 16 or older.
Follow us on Facebook: 
League of Women Voters of Topeka-Shawnee County  
The League of Women Voters is a nonpartisan political organization encouraging the informed and active participation of citizens in government. It influences public policy through education and advocacy. We do not support nor oppose any political party or candidate.