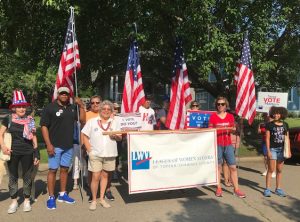 We are a nonpartisan organization that promotes political responsibility through informed and active participation of citizens in government.
Join us on the first Tuesday of every month for our public information session. Learn more!
Support LWVTSC by adopting ducks from the League's Team for the Sertoma Great Topeka Duck Race!
Tuesday Topics

August 3, 2021 | Noon | Zoom
Ann Mah, Member of the State Board of Education will talk about current education issues in Kansas.
LWV Members, watch your email for the Zoom link.
Non-members, register for the Zoom link with the Topeka and Shawnee County Public Library.
Read a summary and/or watch the recording of Dr. Russell Fox's July 6 presentation on voter suppression.
---
August 2021

Carole Jordan, Chapter President

"Some people say…." "Shocking new information…." "Important information for Baby Boomers…." "Do these three things to keep your family safe…." "Big city liberals want to defund the police…"
Every day, from every direction, lies and misleading information come at us through most forms of communication—television, the internet, social media, and talking with friends, neighbors and strangers. Lies and misleading information are particularly concerning when they attack our democracy, our voting rights or our public health.
Read more about other league activities and news from our President
---
Join us to Make Democracy Work!
The League of Women Voters has two separate and distinct roles:
Voters Services/Citizen Education: We present unbiased nonpartisan information about elections, the voting process and issues.

Action/Advocacy: We are also nonpartisan; but after study we use our positions to advocate for or against particular policies in the public interest.
Join LWVTSC and start making a difference in our community. League membership is open to all women and men age 16 or older.
Follow us on Facebook: 
League of Women Voters of Topeka-Shawnee County
The League of Women Voters is a nonpartisan political organization encouraging the informed and active participation of citizens in government. It influences public policy through education and advocacy. We do not support nor oppose any political party or candidate.