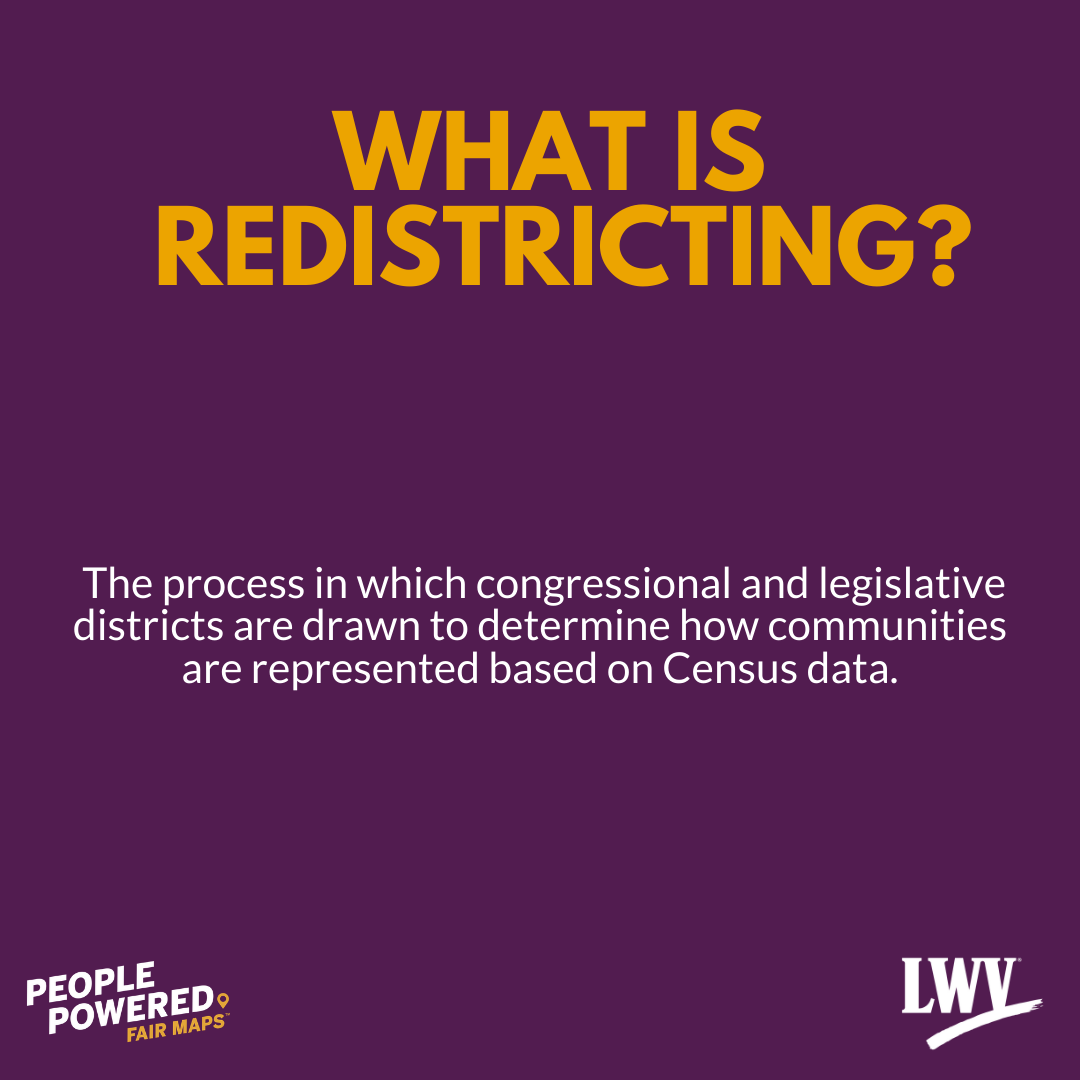 What is it? Redistricting in Kansas is the process of creating new districts from which we elect our representatives in Congress, the State Legislature, and local governing bodies (city council, county commission, school board).
Districts define the basic fairness of our governing bodies by making sure each person is represented equally (one person, one vote) and that communities with similar interests have a voice in policymaking.
Districts are redrawn after each US Census that provides updated population figures.
In Kansas, elected officials generally create the district maps. The procedures don't always require input from the public. 
The League's position is that the best and fairest districts are based on input from the people who reside in them.
Want to contribute to new legislative and congressional districts but not sure how to go about it? This is the video for you. Redistricting in Kansas is underway and the League of Women Voters can help you prepare the specific information that legislators have requested.  Submit your testimony and community's story to the redistricting committees by the end of 2021. The Legislature will adopt new districts during the 2022 Legislative Session. #KansansDeserveFairMaps.
Resources
Maps and Tables Showing Population Change by County and District
Kansas Legislative Briefing Book 2021, Kansas Legislative Research
Proposed guidelines for 2022 redistricting.
2021 Redistricting Advisory Group (Legislative Committee)
House Committee on Redistricting
Senate Committee on Redistricting
Historical Resources
2012 Technical Committee Rules
2012 Guidelines and Criteria for Legislative and Congressional Districts
---
Video Resources
We kicked off the 2022 round of redistricting in Kansas by presenting "Redistricting 101."  This slide presentation, made to the League of Women Voters Topeka-Shawnee County members and community partners in April 2021, reviews the basics of congressional and legislative redistricting in Kansas. Learn about redistricting, why fair maps are the basis for fair votes, and how you can get involved in the process.
Not sure how gerrymandering works? Two words: packing and cracking. Both are used to gerrymander districts to favor one group over another. We see how gerrymanding works in this clever demonstration, Pennies vs. Dimes. This is an excerpt from the documentary Line in the Street by Robert Millman. Posted here with permission.
What are your communities?  How do you describe them to decision makers?  Then what?
Additional Resources
(Documents will download or open in a new tab.)
Apportionment 101 and Why It's Important, U.S. Census Bureau
2020 Census Redistricting Data Release, U.S. Census Bureau
Coalition Hub for Advancing Redistricting through Grassroots Engagement (CHARGE Hub)
Princeton Gerrymandering Project
National Conference of State Legislatures (NCSL)
NAACP Legal Defense Fund Redistricting Guide
League of Women Voters Kansas People Powered Fair Maps
Resources in Multiple Languages
All About Redistricting, 
     Community Engagement: Understanding the Redistricting Process