Redistricting in Topeka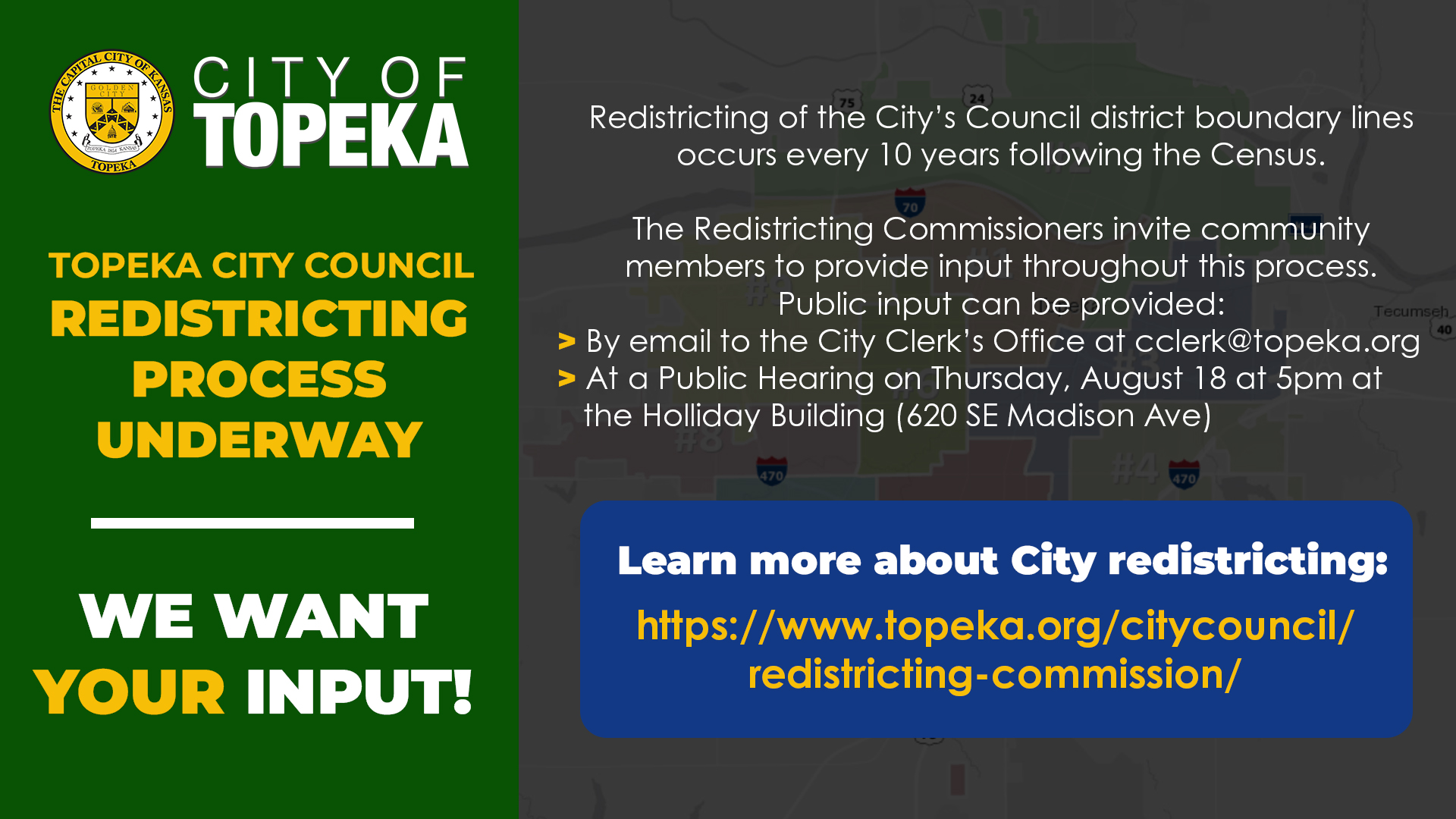 Redistricting of the City's Council district boundary lines occurs every 10 years following the U.S. Census.
The Redistricting Commissioners invite community members to provide input throughout this process.
Public input may be provided:
— By email to the City Clerk's Office at cclerk@topeka.org
— At a public hearing on Thursday, August 18 at 5 PM at the Holliday Building (620 SE Madison Ave).
2012 – 2022 Council Districts
Tips: 
Click on the 'x' in the upper right corner of the map inset to close the "Find My Council Mem . . ." popup and see more of the district map.
Click on the "layer list" the 4th icon from the right in the toolbar at the top of the map to add or remove layers:  NIAs, road labels, council districts 
Based on the 2020 Census, Topeka City Council Districts need to be balanced to achieve the equal population goal set out in the City Municipal Code, Section A2-23.
The City Council has been briefed on the requirements and the Commission of Electors has been appointed.  Stay up to date with activities of the Commission including proposed district maps.
The table below shows the districts with 2020 population and the deviation of each from the ideal population of 14,064. Table data source: City of Topeka, Redistricting Commission — Current Population  7/5/2022
Current City Council Districts

The Topeka Redistricting Commission consists of 9 members appointed by the sitting City Council members.  One Commissioner is appointed from each of the current districts.  The Council will consider proposed district boundary line changes and recommend revisions to the City Council by September 30, 2022.  The City Council may accept or reject the recommendations of the Council and has the ultimate authority to establish district boundaries.  After it has submitted its recommendation to the City Council, the Commission will cease to exist.  Learn more about the Commission and its activities on the city website.


 

Useful statistics:

Topeka 2020 population126,587

Ideal district population (1/9th of pop) = 14,065

Allowable pop range +/- 2.5% ; 352 = 2.5% of ideal

Minimum district pop.= 13,714

Maximum district pop. = 14,416

District No.

2020 pop by dist

% deviation from ideal

# deviation from ideal

1

13,098

-6.9%

(966)

2

 13,129

-6.7%

(935)

3

 14,190

0.9%

126

4

14,140

-0.5%

76

5

14,388

2.3%

324

6

13,907

-1.1%

(157)

7

14,392

2.3%

328

8

14,693

4.5%

629

9

14,642

4.1%

578
2022 Congressional Districts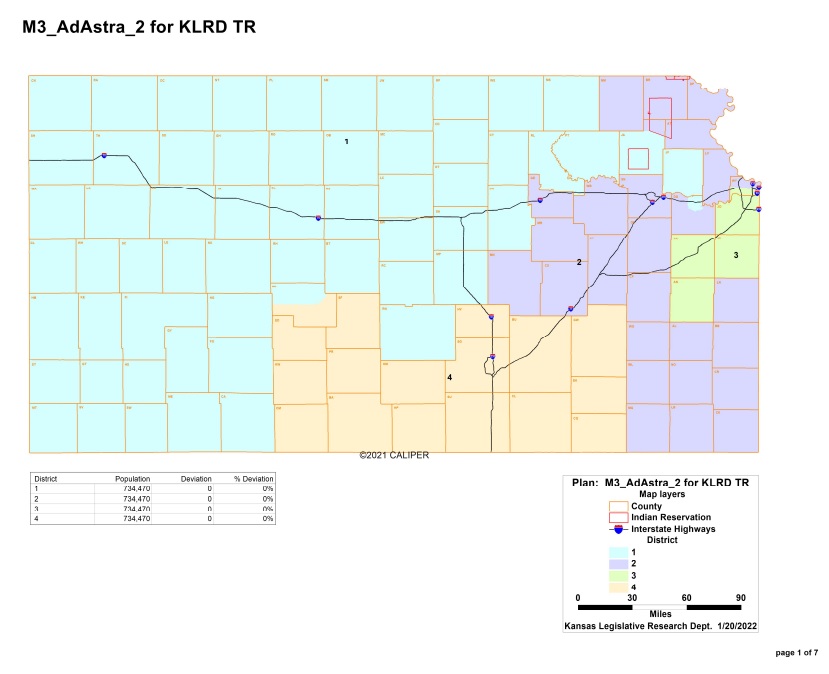 More information about the 2022 Kansas congressional districts can be found here.
2022 Legislative Districts  
House Districts

Senate Districts