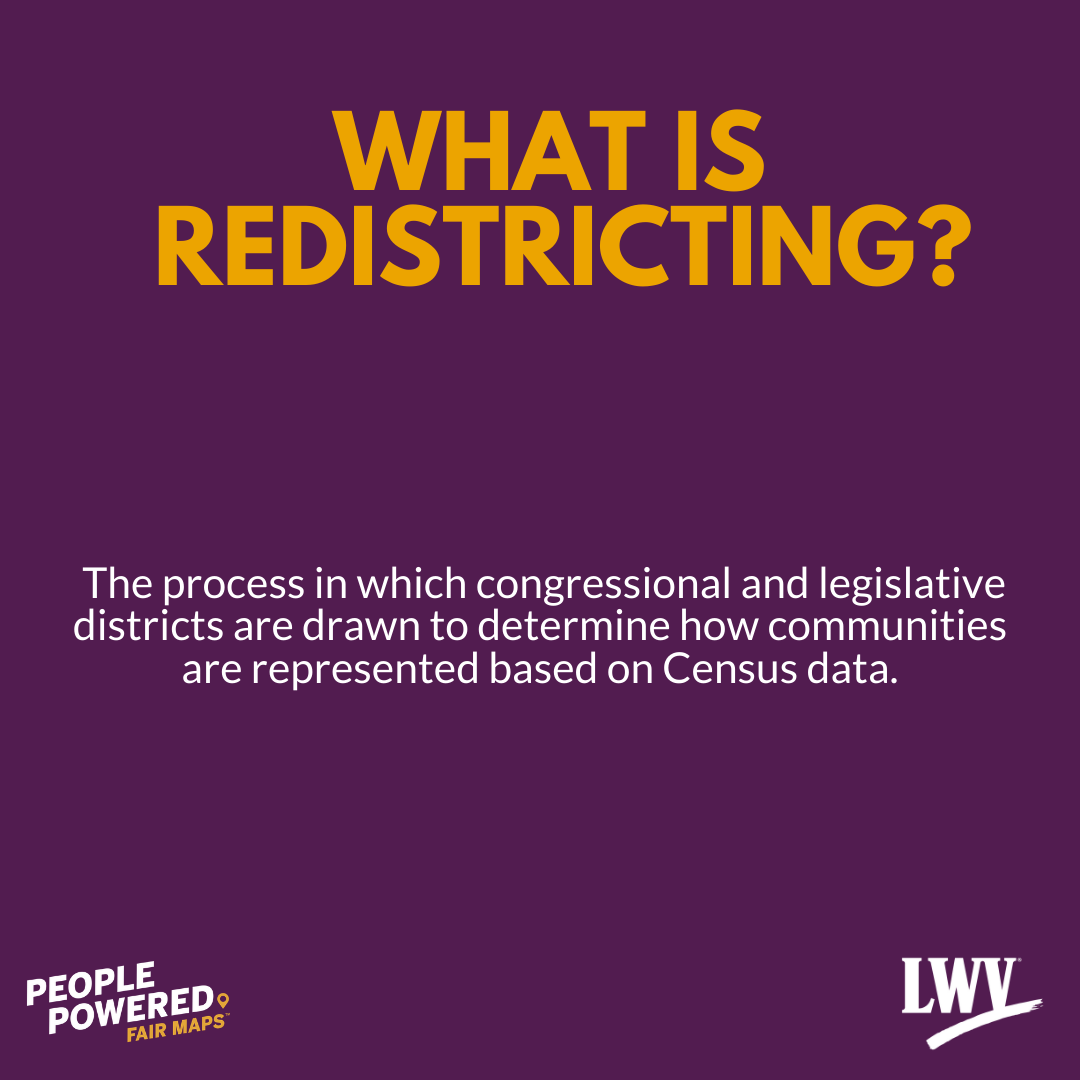 What is it? Redistricting in Kansas is the process of creating new districts from which we elect our representatives in Congress, the State Legislature, and local governing bodies (city council, county commission, school board).
Districts define the basic fairness of our governing bodies by making sure each person is represented equally (one person, one vote) and that communities with similar interests have a voice in policymaking.
Districts are redrawn after each US Census that provides updated population figures.
In Kansas, elected officials generally create the district maps. The procedures don't always require input from the public. 
The League's position is that the best and fairest districts are based on input from the people who reside in them.
Map Drawing Contest for College Undergraduate Students
Eligibility
Undergraduate students enrolled in any public or private Kansas higher education institution that includes universities, colleges and community colleges. Students may submit entries in any category as an individual or as a team.
Categories

Congressional map
State House map
State Senate map
Prize
$1,000 per category
Free one-year membership to the League of Women Voters of Kansas
Winners will be invited to present maps at an upcoming League of Women Voters meeting
Winners will be featured in League Notes/Newsletters/Social Media/Websites
Criteria
Submission Deadline
Friday, Oct. 22, 2021 by 11:59 p.m. CDT
Send questions to: contactus@lwvk.org. 
Submission Requirements
Map file type: JSON map archive format from Dave's Redistricting
Narrative justification as a PDF with 5 page maximum, 12 pt, double spaced, use either APA or MLA format consistency throughout the documents
Letter of support from college/university professor submitted directly to contactus@lwvk.org as proof of eligibility (must include contestant(s) name(s), professor's contact information: email, phone number, college/university department)
Submission format: justification PDF, map archive file, and letter of support as attachments must be sent to: contactus@lwvk.org with the subject line "District Map Contest Entry". Body of email must include contestant(s) name(s), school(s), year (Fr., Soph., Jr., Sr.) and contact information (name, phone number, map drawer's email)
Disclaimer
Map winners may be asked to release their submission for publication by the League of Women Voters of Kansas. Winning maps my be submitted to the Kansas Legislature/Kansas Legislative Research Department as official League Maps.
Results
Winners will be notified by email at noon on Friday, November 19, 2021
Press Conference on Monday, November 22, 2021 announcing the winners
Resources
Maps and Tables Showing Population Change by County and District
Kansas Legislative Briefing Book 2021, Kansas Legislative Research
Proposed guidelines for 2022 redistricting.
2021 Redistricting Advisory Group (Legislative Committee)
House Committee on Redistricting
Senate Committee on Redistricting
Historical Resources
2012 Technical Committee Rules
2012 Guidelines and Criteria for Legislative and Congressional Districts
---
Video Resources
We kicked off the 2022 round of redistricting in Kansas by presenting "Redistricting 101."  This slide presentation, made to the League of Women Voters Topeka-Shawnee County members and community partners in April 2021, reviews the basics of congressional and legislative redistricting in Kansas. Learn about redistricting, why fair maps are the basis for fair votes, and how you can get involved in the process.
Not sure how gerrymandering works? Two words: packing and cracking. Both are used to gerrymander districts to favor one group over another. We see how gerrymanding works in this clever demonstration, Pennies vs. Dimes. This is an excerpt from the documentary Line in the Street by Robert Millman. Posted here with permission.
What are your communities?  How do you describe them to decision makers?  Then what?
Additional Resources
(Documents will download or open in a new tab.)
Apportionment 101 and Why It's Important, U.S. Census Bureau
2020 Census Redistricting Data Release, U.S. Census Bureau
Coalition Hub for Advancing Redistricting through Grassroots Engagement (CHARGE Hub)
Princeton Gerrymandering Project
National Conference of State Legislatures (NCSL)
NAACP Legal Defense Fund Redistricting Guide
League of Women Voters Kansas People Powered Fair Maps
Resources in Multiple Languages
All About Redistricting, 
     Community Engagement: Understanding the Redistricting Process