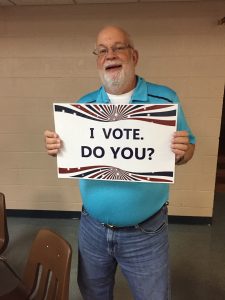 HELP  TURN  OUT  THE  VOTE!
A strong democracy needs every registered voter to participate in the election process.  If you are a business or organization, we invite you to download and display one or both of our posters that encourage people to vote.  These signs say "I Vote.  Do You?  and  We Vote.  Do You?"
Be creative and try also posting pictures of your employees who vote.  In a prominent place, display these posters with or without employee pictures.  Let the community know you support strengthening our democracy through voting.
---
What does League do?
We educate citizens about issues, legislation, and candidates.
We sponsor candidate forums or Meet and Greet events