Every Year is an Election Year!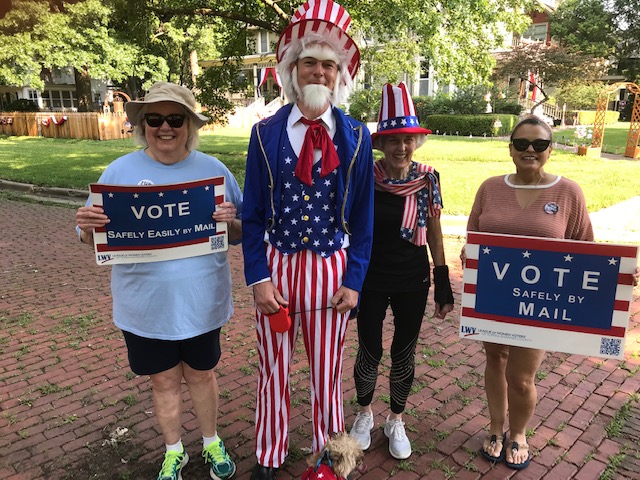 June 1 was the candidate filing deadline for municipal and school board elections that will be held in August 3 (primary) and November 2 (general).
Often these local elections don't get as much attention as state and national elections because the districts cover only small portions of the county and campaigns are generally not well funded. So, it's up to all of us to dig in and educate ourselves about the issues and the candidates and encourage our friends and neighbors to do likewise.
Depending on where you live in the county, you will vote for municipal governing bodies – mayors and city council members and local school board members. See the list Shawnee County Election Office's list of candidates.  Mayor and City Council District 3 candidates covered in the news article that follows will be on the August 3 primary election ballot.
Candidate Profiles — Topeka City Primary Election
(with thanks to the Topeka Capital Journal)
Fourteen candidates are vying for Topeka City Council and five want to be mayor. Here's what you need to know.
     Blaise Mesa — Topeka Capital-Journal
     Published 6:28 a.m. CT Jun. 3, 2021| Updated 4:29 p.m. Jun. 22, 2021
Excerpt posted here with permission.
Five Topeka City Council races, as well as the mayor's seat, will be contested in the Nov. 2 general election, with District 3 and the mayoral race first requiring primaries Aug. 3 because of the number of candidates.
Four seats — in Districts 2, 4, 6 and 8 — will be up for election in 2023.
The Topeka Capital-Journal is interviewing each of the candidates who filed. Here is what you need to know.
Topeka mayor candidates: Daniel Brown, Leo Cangiani, Patrick Klick, John Lauer, Mike Padilla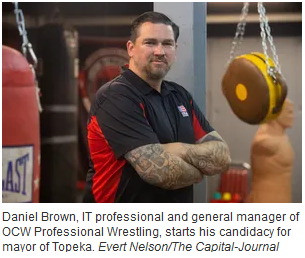 Daniel Brown is a boxing coach, IT professional and general manager of O.C.W. Professional Wrestling, a Topeka-based wrestling league.
Brown said he wants to see better street investment and more adequate access to mental health resources.
Daniel Brown, IT professional and general manager of OCW Professional Wrestling, starts his candidacy for mayor of Topeka.
"Did it work in the past?" he said. "If it did, then great, let's do that again. If it didn't work in the past, I don't know why we keep doing the same thing."
More: Daniel Brown coaches boxing, plays a bad guy in a wrestling league, is running for mayor
Leo Cangiani wants to inspire Topeka and its residents to do better.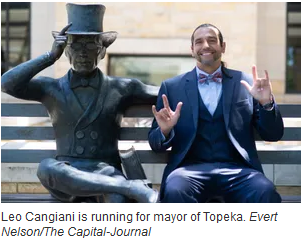 "We need to show Topeka love," Cangiani said. "Sometimes there are misconceptions of us, which is unfortunate. Any city has their issues, but I don't want Topeka to be known for those issues. We can do better."
Cangiani also wants to see better access to mental health resources for Topekans.
More:Topeka mayoral candidate Leo Cangiani has lived many places. Topeka is his home.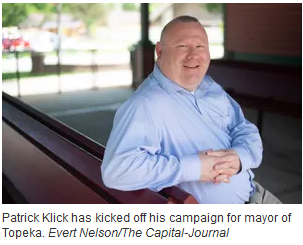 Patrick Klick has lived in Topeka for 12 years. He is the emergency room director at Ascension Via Christi in Manhattan.
Klick wants to improve the quality of life in Topeka, which accompanies everything from addressing homelessness, quality housing and attracting businesses.
Patrick Klick has kicked off his campaign for mayor of Topeka.
"I see people in my community that are hurting and need some help," he said. "It's really easy to tear something down. It is hard to build something back up."
More: Patrick Klick is running as the 'candidate for everyman.' He is focused on Topeka's image
John Lauer was the Ward Meade Neighborhood Improvement Association president for two years. He said Topeka is a good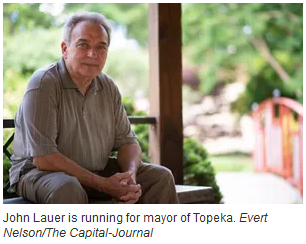 town.
"It has a lot of good people, a lot of hard working people," he said. "But sometimes, it just seems like there is some neglect in little pockets that seem to be ignored or seem to be constantly in need of some kind of rehabilitation."
Lauer advocated for more infrastructure investment, better housing stock and a more centralized approach to mental health care.
More: John Lauer running for mayor to 'try to better everything for everybody if possible'
Deputy Mayor Mike Padilla, who was elected to the council in District 5, served on the Topeka Police Department for 34 years.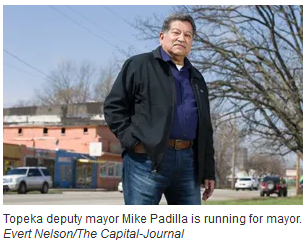 His top goals as mayor would be to improve the health of neighborhoods across the capital city.
"Just talking about it only goes so far, we have to make decisions and have to act on them in positive ways," Padilla said.
More: Deputy Mayor Mike Padilla is running to be the next mayor. Here are his top priorities.
District 3 candidates: William Hendrix, David Johnson, Lana Kombacher, Sylvia Ortiz, Regina Platt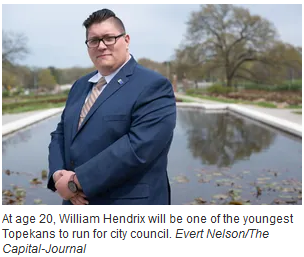 William Hendrix just turned 20, but he said his age is an advantage because he can relate to the younger generation.
"The transfer of power from generation to generation has to happen sometime," Hendrix said. "Young people running for things is going to happen."
At age 20, William Hendrix will be one of the youngest Topekans to run for city council.
He said he wants to see more investment in District 3, including a new grocery store.
More: William Hendrix, 20, is one of the youngest candidates to ever run for Topeka City Council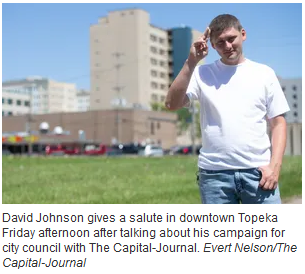 David Johnson wants to see city-owned affordable housing apartments to help residents struggling to make ends meet.
David Johnson gives a salute in downtown Topeka Friday afternoon after talking about his campaign for city council with The Capital-Journal.
"It gets people who are struggling with low incomes a decent place to live," he said, "but the rent checks that they pay … help fund the city."
Johnson is a self-employed handyman and also does yardwork and home repairs.
More: David Johnson wants more affordable housing. He hopes his campaign will enable that.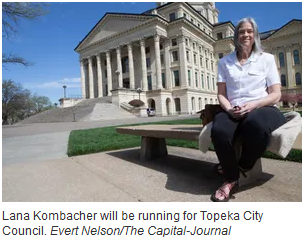 Lana Kombacher said she believes the council would benefit from a new set of eyes.
She has spent 40 years in Topeka and wants people to have more pride in where they're from.
Lana Kombacher will be running for Topeka City Council.
"I don't like it when people … say, 'we need to get out of Topeka, there is nothing here in Topeka,'" Kombacher said. "No, there is. We just have to build on it."
More: Retired nurse Lana Kombacher is running for the 3rd District seat on Topeka City Council.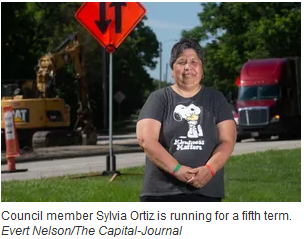 The longest serving council member in Topeka history, incumbent Sylvia Ortiz said her experience helps her constituents get answers faster.
Ortiz said she's proud of development at S.E. 15th Street and Adams, the Samuel Jackson Spray Park and work done at the Brown v. Board of Education site, but more needs to be done.
More: Sylvia Ortiz is Topeka's longest-serving council member. She says she has more to do.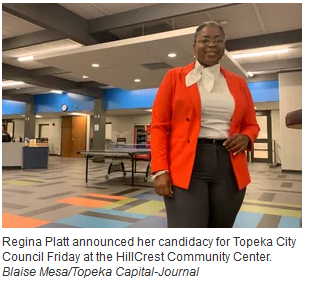 Regina Platt says Topeka must do a better job addressing infrastructure improvements, better youth services, living wages and homelessness.
Regina Platt announced her candidacy for Topeka City Council Friday at the HillCrest Community Center.
"I know what it is to struggle," Platt said. "The status quo has left our district in despair and our community deserving better."
Platt works at the Kansas Juvenile Correctional Complex where she teaches "advocacy 101" and is a member of the True Holiness Ministries, where she does choir and helps with the youth department.
More: 'Status quo has left our district in despair': Regina Platt is running for city council.
_______________________________________
Sources
Fourteen candidates are vying for Topeka City Council and five want to be mayor. Here's what you need to know.
Boxing coach, wrestling 'bad guy' Daniel Brown runs for Topeka mayor (cjonline.com)
Meet Leo Cangiani, Topeka mayoral candidate and Chick-fil-A ad star (cjonline.com)
Former Ward Meade NIA president John Lauer running for Topeka mayor (cjonline.com)
Patrick Klick is running for mayor of Topeka as 'everyman candidate' (cjonline.com)
Mike Padilla is running for mayor of Topeka. Here are his priorities. (cjonline.com)
William Hendrix, 20, is one of Topeka City Council's youngest candidates ever (cjonline.com)
Meet David Johnson, candidate for Topeka City Council 3rd District (cjonline.com)
Retired nurse Lana Kombacher is running for the 3rd District seat on the Topeka City Council (cjonline.com)
Sylvia Ortiz runs for re-election to Topeka City Council in District 3 (cjonline.com) 
'Status quo has left our district in despair': Regina Platt is running for Topeka City Council's District 3 (cjonline.com)